ESPN.com took notice of a picture that was taken in Dortmund Germany a couple months back and decided to post it up as "Photo of The Day".
Here's what Ryan Leyba (editor of FMX section on ESPN.com) had to say about it…
"So, I got this photo from Lance Coury's dad via email. I have no idea who shot it and no idea which country it was in (though I do know it was in Europe), but it's an extremely dope photo and I thought I'd share it with you. There's not much more to say here except, check out the freakin' extension … this is by far the biggest no-footed nac I've seen from LC. Click it to enlarge … it looks way cooler big."
Click the image to link directly to the page.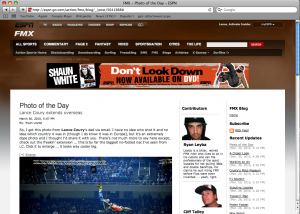 Stay tuned,
LAnce